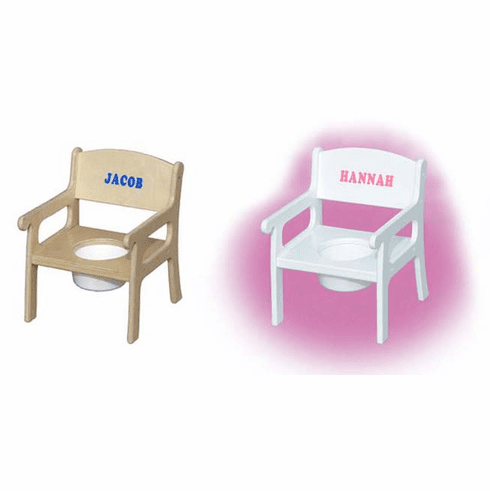 Little Colorado Personalized Potty Chair
Proudly Made in the USA.
The Little Colorado Personalized Potty Chair helps take the anxiety out of learning to use the toilet. Your child will feel much more at ease and willing to go potty on a chair that's made just for them. The Little Colorado Personalized Potty Chair is made of resilient Baltic birch wood and is easy to clean. This new wooden potty trainer is a traditional style that your toddler will love to spend time using. The removable plastic chamber used in this potty chair is an industry standard size for easy replacement. The chamber slides out from the rear in order to minimize messy complications that could arise during use.
All Little Colorado furniture look great in any of their hand painted finishes. You can also purchase this Little Colorado Wooden Potty Chair unfinished at a lower price and paint it yourself to match the decor of your room. Make this potty chair even more special by personalizing it with your little one's name for an additional $7.95. Personalization can be up to 12 letters long in blue, red, green, white, black or pink lettering. Chair is available in solid white, natural, linen, soft pink, powder blue, lavender, light green and unfinished. Shown in personalized natural and solid white finishes.
Shipped assembled.
Dimensions: 16"H x 12"W x 13"D
This Little Colorado Personalized Potty Chair takes approximately 2-5 days to leave the warehouse plus transit time.